Original Article
Survival analysis of multiple myeloma patients after autologous stem cell transplantation
Introduction
Multiple myeloma is a type of malignant proliferative disorders. It develops when plasmocytes undergo genetic mutations due to a variety of factors (1). Conventional chemotherapy is favorably considered as a valid action to improve the clinical symptoms and survival rate of patients. Unfortunately, like other hematopoietic malignancies, multiple myeloma cannot be completely cured by conventional chemotherapies (2). Notably, hematopoietic stem cell transplantation (HSCT) has been applied to a number of hematopoietic diseases, including leukemia, lymphoma, and myeloma, as well as other solid tumors and non-malignant disorders for almost 60 years (3). Therein, allogeneic HSCT (Allo-HSCT) is a strong consideration for myeloma patients of a high-risk stage, however, its application is somehow limited due to its extremely high potential of transplant-related mortality (4). Alternatively, autologous HSCT (Auto-HSCT) is widely utilized to make a balance between the risks and benefits as its efficacy is superior to conventional chemotherapy and its safety is better than Allo-HSCT, despite that it has a high recurrence rate that cannot be ignored (5). In order to prevent the poor outcome of the HSCT treatment for multiple myeloma, researchers have attempted to identify significant prognostic factors which may be modified in the future (6-9). Herein, this is a retrospective study including patients with myeloma and analyzing patients' prognosis post transplantation to discover possible prognostic factors that affect the efficacy of transplantation and to make a guidance for future clinical work.
---
Methods
Patients
This study included 30 patients with multiple myeloma. Diagnosis was confirmed by bone marrow aspiration and biopsy. These patients were hospitalized and underwent autologous hematopoietic stem cell collection and transplantation at Southwest Hospital in Chongqing, China from January 2011 to December 2016. Data regarding patient's status of illness including prognosis and treatment history were extracted retrospectively from online medical records and collected by follow-up through phone call. Auto-HSCT was administered to subjects following several challenges of chemotherapy. Prior to the transplantation, each patient would obtain the identification of blood type. Biochemistry analyses were as follows: complete blood cell count, serum calcium level, hepatic panel, kidney function tests, and serum β2-microglobulin level. Serum monoclonal immunoglobulins (M protein) prior to transplantation were also included in our analysis due to the importance of their clinical reference. Serial radiographic films were utilized to determine bone marrow lesions. Patients were staged according to the International Staging System (ISS) which was proposed in 2005 (10) and Durie-Salmon staging system which has been widely used since 1970s (11). Both methods were adopted in combination to predict the efficacy of Auto-HSCT. Notably, the source of HSCT was peripheral blood stem cells (Auto-PBSCT) in our study. Hematopoietic stem cells were collected from the arm vein of self-donor by blood components apheresis surgery and then subjected to examine the frequencies of CD34+ cells and mononuclear cells by flow cytometric analysis. To ensure enough cells for transplantation, we required that CD34+ cells ≥2×106/kg and the mononuclear cell count ≥3×108/kg body weight of patients. All the transplantation procedures were performed in a special unit with high-efficiency particulate air (HEPA) filtration. In order to minimize transplant-associated infectious complications, patients were not allowed to leave this unit until their peripheral blood neutrophil count was above 1.5×109/L with the absence of any other serious complications. In some cases, patients would undergo a second transplantation to consolidate its efficacy.
Statistical analysis
The primary endpoint of our analysis was overall survival (OS), which was defined as the time from Auto-HSCT to the death of any causes or the last follow-up. Another endpoint was progression-free survival (PFS) which was determined as the time from Auto-HSCT to the progression or death of any causes. Kaplan-Meier method was used for analyzing the OS and PFS (12). Univariate analysis and multivariate analysis of factors affecting survival were carried out with a Cox proportional hazards model and variables with P>0.1 were excluded from the models. A value of P<0.05 was considered statistically significant. Statistical analysis was performed using the SPSS version 19.0.
---
Results
Characteristics of patients and myeloma
This study included 30 patients with multiple myeloma treated by Auto-PBSCT. Table 1 lists the characteristics of patients and myeloma at baseline. Of these patients, the median age was 49.6 years (range, 39–73 years) and 16 cases were younger than 50 years old. According to the Durie-Salmon staging, we considered blood hemoglobin greater than 100 g/L as normal, less than 85 g/L as decreased, and serum calcium higher than 2.98 mmol/L as increased. Serum albumin less than 35 g/L was considered as decreased. Elevated serum creatinine was defined as 84 µmol/L and blood urea nitrogen (BUN) more than 8.3 mmol/L was considered as increased. ISS and Durie-Salmon staging system are shown in Tables 2,3 (10,11).

Table 1
Characteristics of patients and lymphoma at baseline
Full table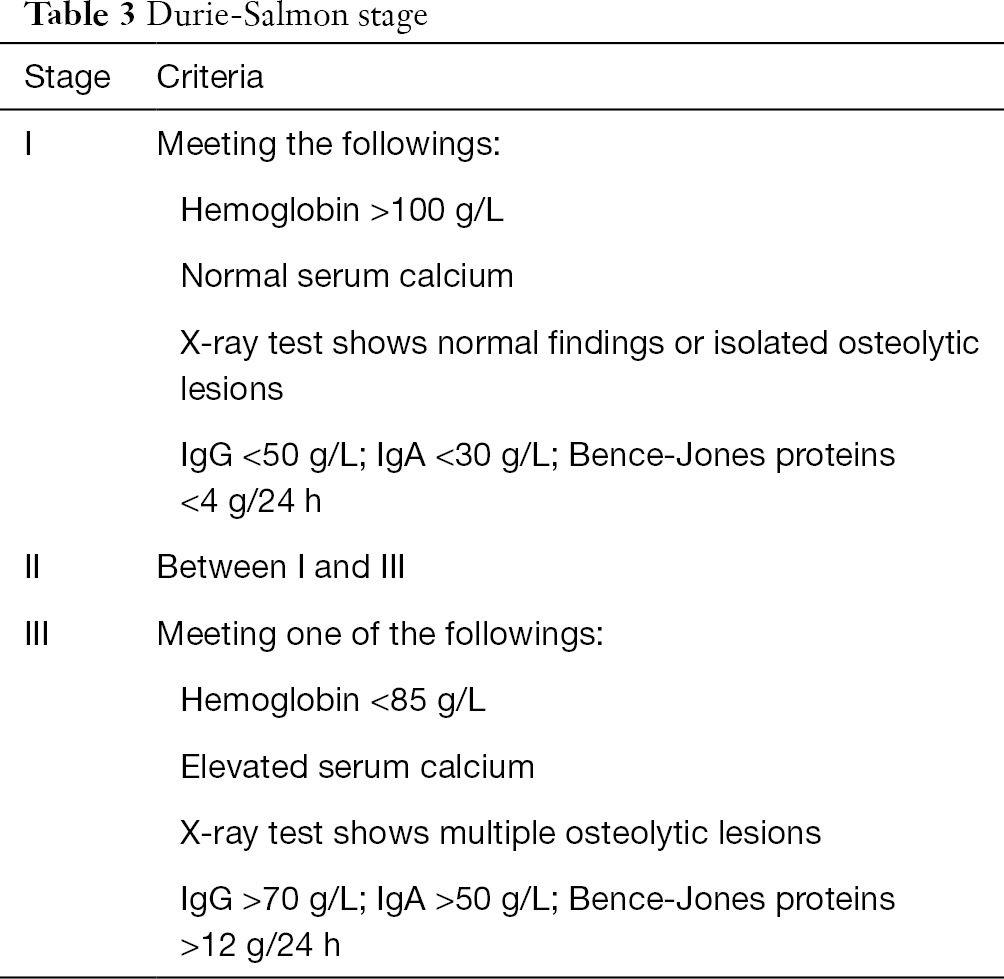 Transplantation outcome (Table 4)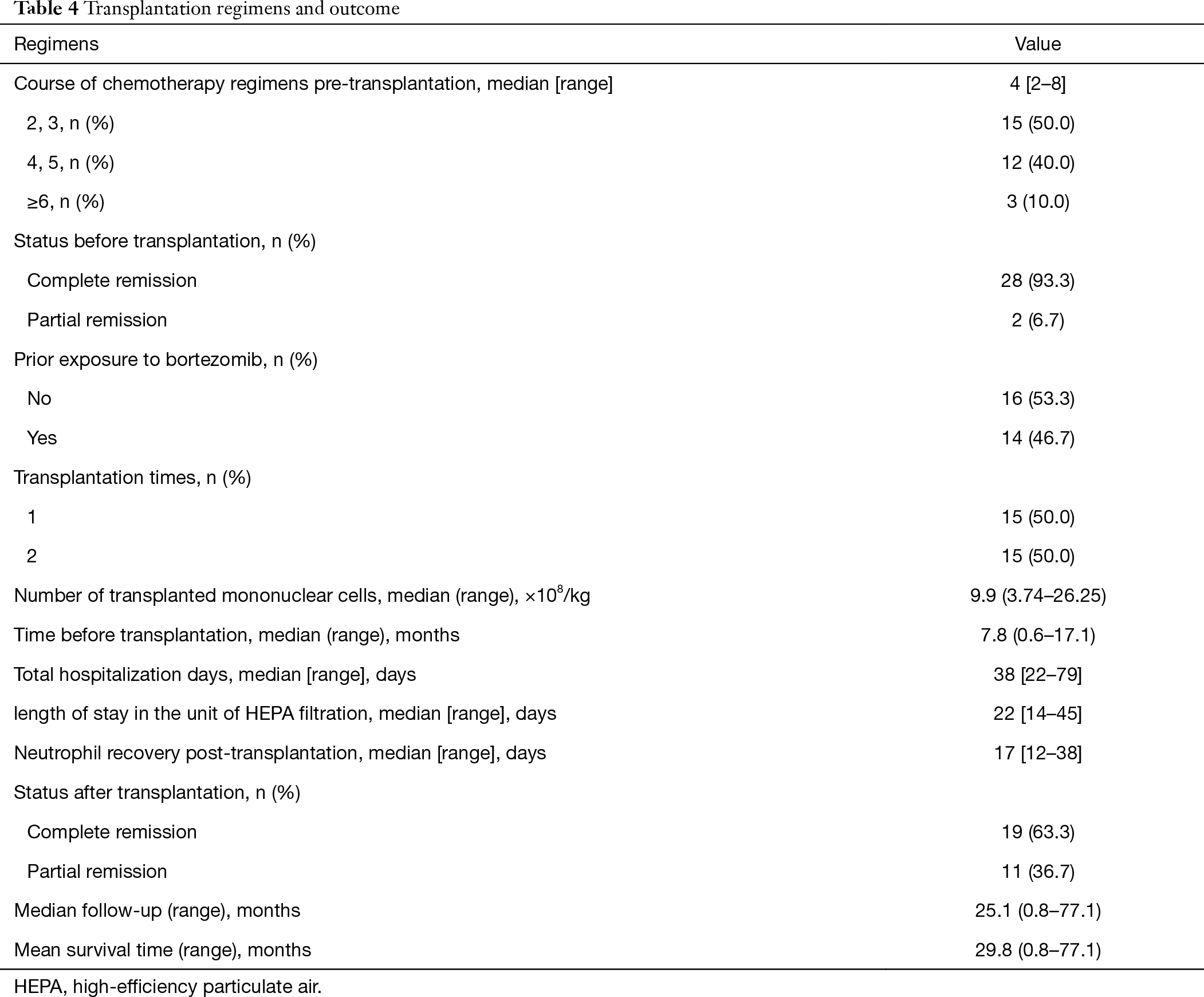 Table 4
Transplantation regimens and outcome
Full table
Chemotherapy of 2–8 courses were performed in these patients followed by the Auto-HSCT. Prior to the transplantation, more than 90% (n=28) of the subjects had achieved complete remission through chemotherapy. All the patients undergoing Auto-HSCT received a same type of conditioning regimen, i.e. , melphalan 200 mg/m2, for the transplantation. Treatment responses were evaluated according to the National Comprehensive Cancer Network (NCCN) clinical practice guidelines in oncology for multiple myeloma (version 2017) (13). Over 60% (n=19) patients achieved complete remission after transplantation. After a median follow-up of 25.1 months, patients had an average survival time of 29.8 months after transplantation. Median survival time was not calculated because the mortality rate of patients did not account to 50%.
Survival analysis
The median OS and PFS for the entire cohort have not been reached (Figures 1,2). The 1-year cumulative probabilities of OS and PFS were 93.3% and 90.0%, respectively. Furthermore, the 3-year PFS and OS were both equal to 76.7%. Thus, only OS was used as the very endpoint in the univariate and multivariate analyses.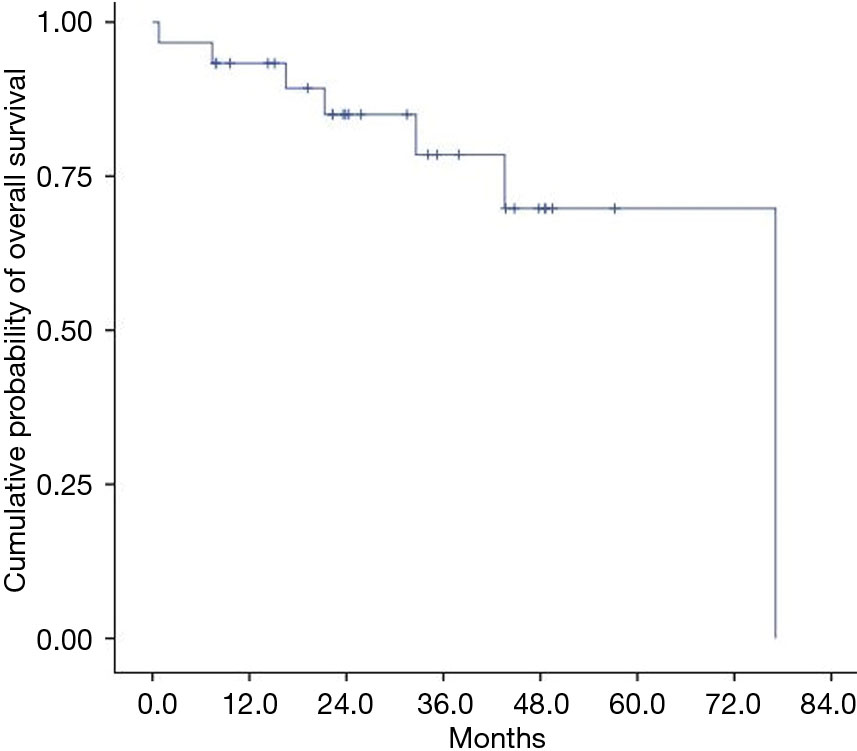 Figure 1 Kaplan-Meier method for estimation of overall survival in myeloma patients receiving Auto-HSCT. Auto-HSCT, autologous hematopoietic stem cell transplantation.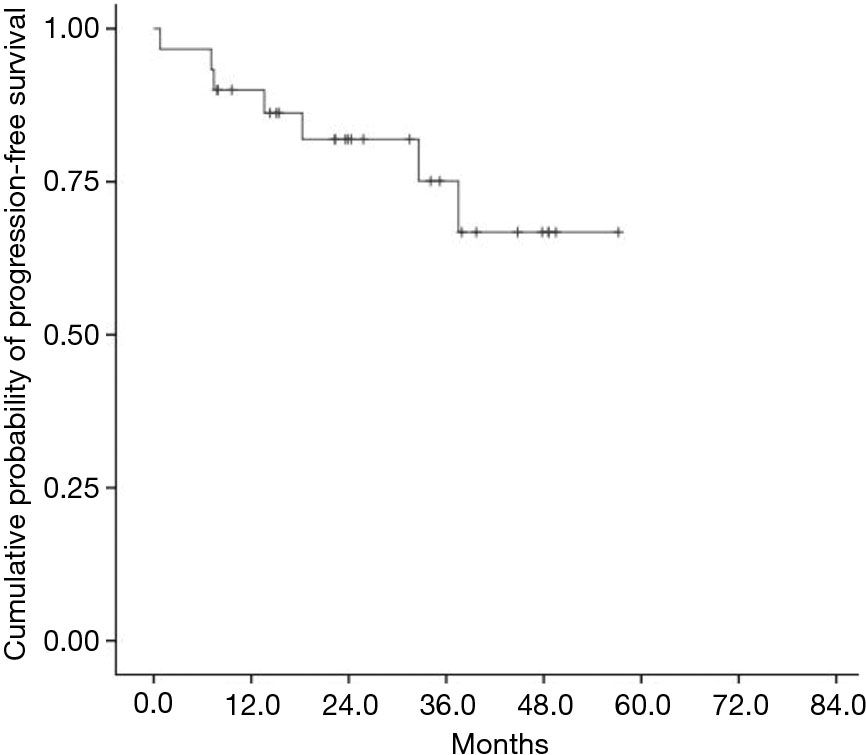 Figure 2 Kaplan-Meier method for estimation of progression-free-survival in myeloma patients receiving Auto-HSCT. Auto-HSCT, autologous hematopoietic stem cell transplantation.
Results from univariate analysis of factors affecting OS are summarized in Table 5. Variable parameters, including gender, age, blood type, hemoglobin, serum calcium, X-ray test, serum albumin, serum creatinine, BUN, β2- macroglobulin, M protein, ISS stage, Durie-Salmon stage, bortezomib addition, chemotherapy times pre-transplantation, transplantation times, duration before transplantation, days in hospital and HEPA filtered unit, mononuclear cells number and neutrophil recovery were analyzed using Cox proportional hazards model. Statistical data of the above parameters failed to identify any factors of prognostic value for patients. Thus, multivariate analysis was not applicable.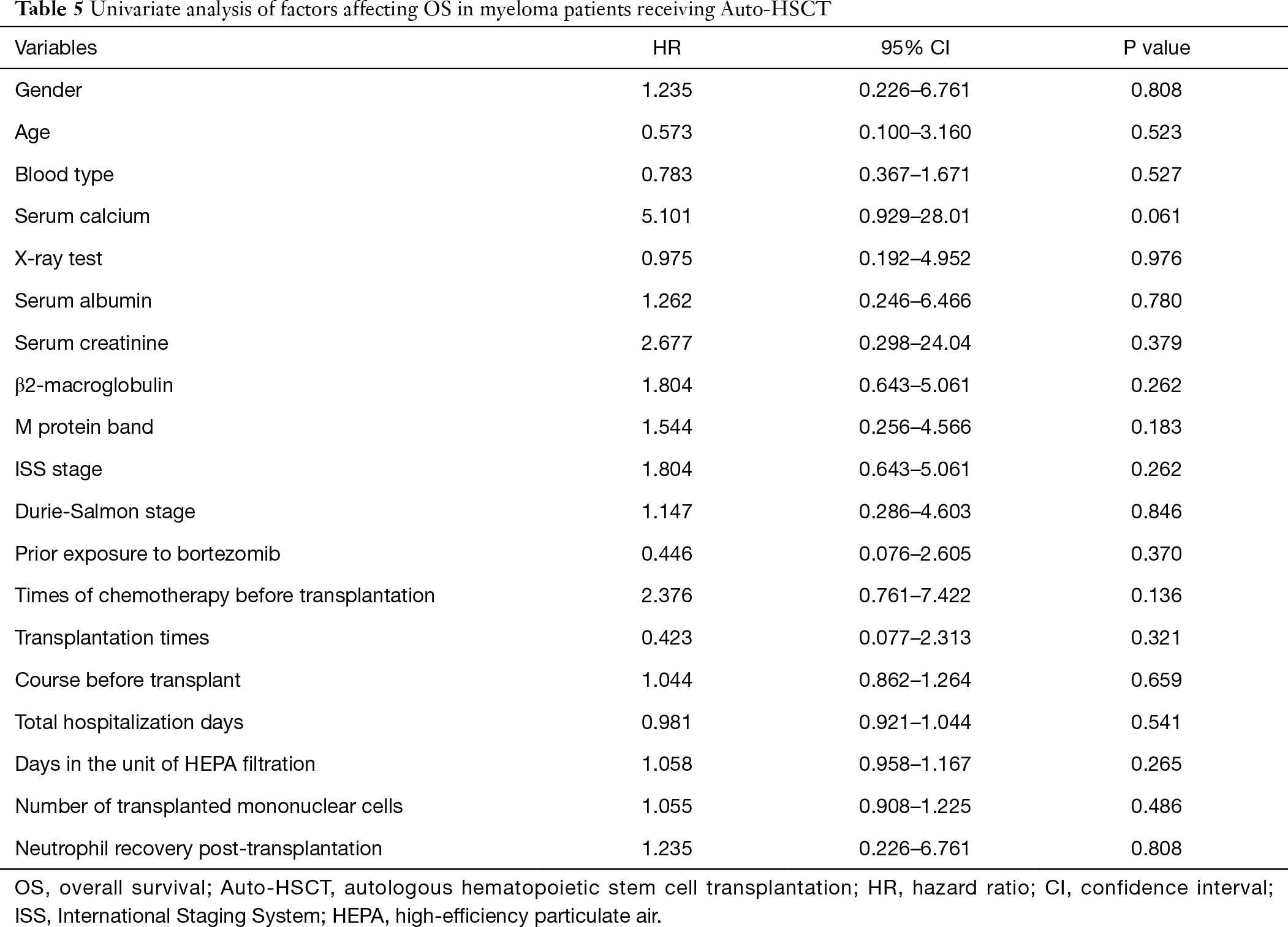 Table 5
Univariate analysis of factors affecting OS in myeloma patients receiving Auto-HSCT
Full table
---
Discussion
Although Auto-HSCT has been used to treat a variety of hematological malignancies, relapse and graft failure have been the biggest obstacles that affect the outcome of HSCT (14,15). To investigate the potential factors resulting in an unfavorable prognosis, a large number of retrospective and prospective studies have been carried out which will contribute to providing valuable references for clinical work in the future (16-18). However, this topic regarding HSCT is far from being fully understood due to the significant heterogeneity between individual studies. Therefore, more investigations are still needed for this issue. With regard to multiple myeloma treated with HSCT, its profoundly unique characteristics such as impaired kidney function and abnormally produced antibodies may bring about more difficulties to the anticipation of HSCT-related outcomes (19,20).
For the past 50 years, a combined chemotherapy of melphalan and prednisone has been the standard treatment for multiple myeloma. In recent years, addition of bortezomib has been reported to contribute to an improved prognosis of myeloma patients, studies showed that bortezomib-treated patients had a better life span than non-bortezomib-treated patients (21). Mechanically, bortezomib inhibits the 26S proteasome and subsequently prevents the degradation of pro-apoptotic factors, triggering the cell death of myeloma cells (22,23). Due to its dramatic effect, bortezomib is even suitable for patients with refractory or advanced disease (21,24). In this study, sixteen patients had a history of bortezomib administration with one to six courses. However, statistical analysis showed that bortezomib application had no significant effect on prognosis in this study. We suppose that non-standard application of bortezomib may lead to a bias in the statistical results. Besides, it's necessary to determine patients' response to bortezomib prior to transplantation. Because the administration of bortezomib with various courses may not always be enough to reduce or eradicate the myeloma cells, downregulating abnormally produced myeloma protein. To resolve the above problems, a prospective randomized controlled trial can verify the efficacy of bortezomib and detection of myeloma protein in serum and urine using daratumumab immunofixation reflex assay is able to confirm the response of cancer cells to bortezomib (25). Several studies have revealed that age, gender, clinical stage, and neutrophil recovery after transplantation are closely related to the efficacy of transplantation, but these factors were not identified as predictors for patients' outcomes in our study (26-28). However, aged patients probably will experience a delayed neutrophil recovery post transplantation, showing some undesirable adverse effects such as fever and mild infections. Similar causalities can also be generated between other factors such as an advanced disease stage and a delayed neutrophil recovery by which may explain the outcome of disease. Unfortunately, no statistically significant evidence was shown. To apply Durie-Salmon stage to our study, hemoglobin, serum calcium, X-ray test findings, and serum monoclonal immunoglobulin were collected. Besides, we used β2-microglobulin and serum albumin to determine ISS stage of a patient as well. Both stage systems work well to guide treatment at diagnosis, but it remains controversial of their prognostic value for myeloma patients post transplantation. For fair evaluation of ISS staging and Durie-Salmon staging, clinical practice may be more persuasive. What's more, available studies have found that elevated serum creatinine and BUN due to the renal impairment have adverse impact on the prognosis of patients (29,30), which was steadily supported in our study. Only a few patients had an elevated serum creatinine (n=3) or BUN (n=1) in this study, this relatively low incidence could possibly explain the scarcity of endpoint events. Thus, it's suggestive to reverse the renal impairment prior to transplantation in order to improve the survival which is supported by other studies (31,32). Our previous study also found prior chemotherapy regimens before transplantation, disease duration before transplantation, total hospitalization days, days in the unit of HEPA filtration, and number of transplanted mononuclear cells had no effect on the prognosis of patients, which was consistent with the results in this study (28). Considering that the most important factors affecting the efficacy of transplantation are disease subtypes and recovery after transplantation (28,33), other factors may not be as crucial as the above two.
Compared to prospective studies, retrospective studies have inherent limitations that differences in disease subtypes and prior treatments may bias the results (33,34). In addition, psychosocial factors, such as sentiments and personality characteristics, have the potential to affect the outcomes of Auto-HSCT patients, which was not investigated in our study (35-37). Inevitably, heterogeneity of the treatment history prior to transplantation is an important weakness of retrospective studies. To delve into the nature of multiple myeloma more deeply, we are concerned that several parameters which were not included here due to incomplete medical record should be collected in the future, such as immunoglobulin subtypes and the extend of bone/soft tissue involvement. Another limitation is the small sample size in the present study. Future studies with large sample size may improve our understanding of factors that can be used to predict the outcome of Auto-HSCT patients.
---
Conclusions
Auto-HSCT can improve the survival of multiple myeloma. Improved health status before transplantation warrants a prolonged survival of myeloma patients after transplantation. Expanding the sample size, as well as extending period of follow-up, can improve the reliability of survival analysis and is of importance for us to explore the prognostic factors.
---
Acknowledgments
None.
---
Footnote
Conflicts of Interest: The authors have no conflicts of interest to declare.
Ethical Statement: The authors are accountable for all aspects of the work in ensuring that questions related to the accuracy or integrity of any part of the work are appropriately investigated and resolved.
---
References
doi: 10.21037/sci.2019.10.05
Cite this article as: Li J, Zhu Y. Survival analysis of multiple myeloma patients after autologous stem cell transplantation. Stem Cell Investig 2019;6:42.